Professor Tools contain everything you need to manage and maintain your curiosity community! You can access all of the following tools via the Professor Tools menu:
Seeding Questions
In the past, Packback's platform would automatically select 3 example posts as starter posts for every community. Now, within the Professor Tools Dashboard in your community you can search by tags to find the best questions across the entire Packback platform and select your own Seed Questions for your community!
Roster Management
We introduced a full Roster Management portal for professors, where you can upload your roster, invite individual students, drop students from the course, and see how many of students have yet to register!
Manage TAs
On the Edit Community page, you can now invite your own TAs and the Packback platform will automatically create their account, add them as a TA into your class, and send them training materials on how to use the platform.
Gradebook Updates
In Spring of 2018, we introduced Automated Grading Reports, allowing you to configure your deadlines one time and have the system automatically pull participation reports for you each week. The previous Custom Date Range reports are still available for pulling any custom report for your class!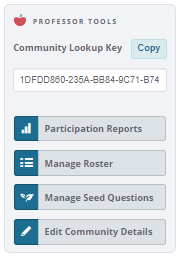 Your TA will also have access to Professor Tools; however, TA's do not have the authority to edit any details of the community.